The Best (and Worst) Places to Hang Mirrors in Your Home
Mirrors are a lot like art – you can place a mirror in any home and room. The trick, however, is where within a room you choose to place a mirror. Choosing the right mirror for the right room can be challenging, but it isn't worth overthinking. There are just a few standard guidelines you should follow when selecting the right mirror.
Below, we'll walk you through some decorative "best practices" for mirror placement.
How to Select the Right Mirror for a Room
If you regularly read our blog or follow us on Facebook or Instagram, you know by now that we're big believers in simply going with what you love when selecting decor for your home. To really feel comfortable in your home, you should fill it with pieces you truly adore – the rest will fall into place (usually).
With that said, you'll feel a lot better about your decorative mirror placement choices if you follow just a few general guidelines. Here are our best tips for selecting and placing the right mirror for any room:
1. Longer Mirrors Usually Belong in Longer Rooms
If you've got a room in your home that's rectangular, it's a better bet to select a mirror that mirrors (pun intended!) its rectangular shape. This also goes for long hallways or foyers. Rectangular rooms can feel somewhat enclosed, especially if there are few windows, so mirrors help to open them up. One of our most popular mirrors, the Head West Mirror Champagne Silver Metro Beaded Glass Framed Vanity Mirror, is a great option for rectangular rooms.
Rectangular mirrors can also be used in squarer, more typically-shaped rooms, especially if they're situated vertically. A good example of placement like this would be mirrors used in bedrooms for dressing purposes, like Head West Mirror Espresso Antique Framed Leaner Or Wall Mount Beveled Dressing Mirror.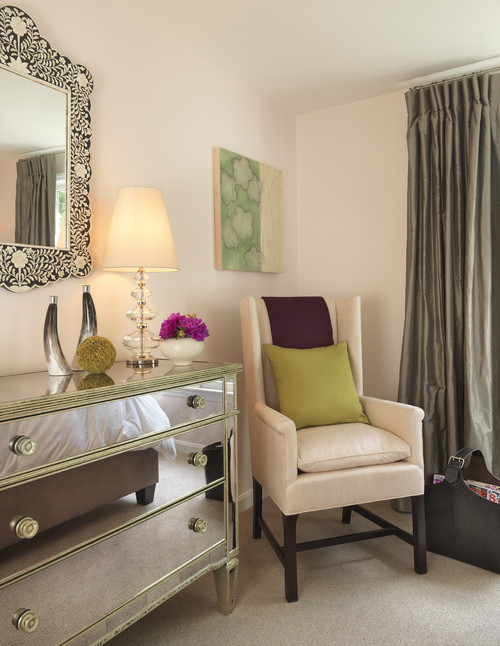 Photo by Rachel Reider Interiors
2
. Avoid Hanging Mirrors on Walls that Face Windows
If your heart is set on hanging a mirror on a wall that sits facing a window, it's wise to keep in mind where the sun rises and sets, as well as how it might affect the day-to-day movement within your home.
You won't want the morning glare in your face every Saturday morning because you decided to place a mirror on wall that reflects the rising sun directly toward your bed. You also won't want a mirror reflecting the setting sun's light into your toddler's room during those late summer evenings. However, it may not mean much to you how a mirror reflects the sun in a room that's rarely used. The thing to keep in mind is what's important to you.
3. Hang Mirrors Where They're Most Practical
This may go without saying, but it's a good idea to place mirrors where they're needed most – simple as that. Practical places to hang mirrors include above bathroom sinks, in small or dark rooms (to help open and brighten-up the space), or in entries and exits to the home (so you can check your appearance when you're heading out the door).Wood and Metal Framed Accent Wall Mirror would look stylish added to any of the above areas of a home.
A mirror as simple and unique as our Wood and Metal Framed Accent Wall Mirror would look chic added to any of the above areas of a home.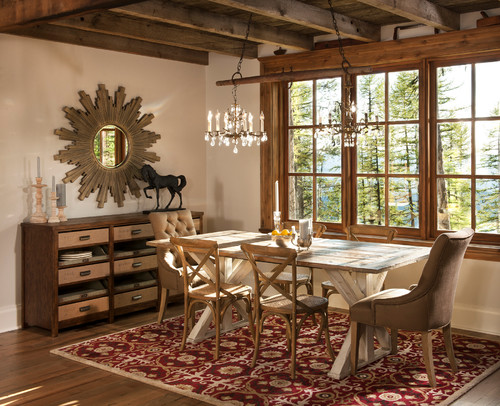 Photo by Altius Design, Longviews Studios
4. Avoid the Impractical
In contrast to the idea of hanging a mirror in a practical spot, avoid hanging mirrors in areas that may cause you (or your guests) to feel uncomfortable.
A dining room is a great place to hang a mirror, but be sure to hang it a little higher on the wall so guests don't have to watch themselves eat when they're seated at the table. Likewise, many people feel quite uncomfortable having a mirror situated so that they can see themselves when they're in bed. It's also worth remembering that most people feel pretty odd sitting in front of a mirror when they're on the toilet or in the shower.
5. Smaller Mirrors Belong on Smaller Walls, and Vice Versa.
There are always exceptions to every interior design rule, but you should generally try to reserve your larger mirrors for larger walls. On the other hand, small mirrors should be used on smaller walls or as accent pieces.
A smaller mirror that would be great for a narrow wall would be our Silver Wire Sunburst Mirror. You might also consider selecting a mirrored decorative object to serve as an accent piece on a dresser or mantel, such as this Turquoise Metal Flower Sculpture.
6. Finally, Do Not – We Repeat – Do NOT Place Mirrors on Ceilings
For the love of all things stylish, please never place mirrors on ceilings. Not only is it a completely dated practice (can you say 70's?) it's quite unsafe. We're pretty sure we don't need to delve too deeply into this. Just please don't!
Looking for the Perfect Mirror for Your Home?
American Art Decor specializes in producing the finest farmhouse home furnishings for interior decor enthusiasts everywhere. We have a wide selection of wall mirrors and mirrored decorative accents. You can browse our current mirror selection here. You can browse our current mirror selection here.
To see our entire selection of home goods, please visit us here.
---
3 comments
---
---